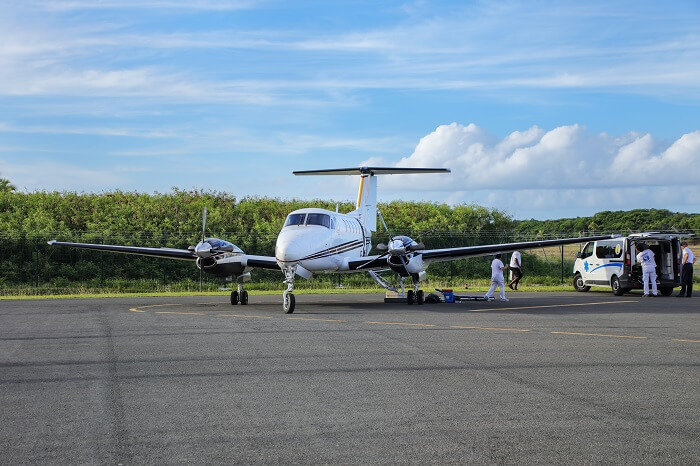 Roswell International Air Center Airport
Air Ambulance in Roswell
Air Ambulance Service in Roswell: Finding the Best Medical Air Transport Operator in Roswell, New Mexico
Are you looking to transfer a critically ill family member to or from a hospital in Roswell, New Mexico? Or perhaps you have a friend who got injured in an accident in Roswell and needs to receive immediate medical care.
In either case, finding a trusted air ambulance service is your best bet.
The Changing Role of Air Ambulance Services
Medical flights have been a preferred option for transporting injured soldiers from the battlefield to nearby healthcare facilities. However, in recent years, they've also caught the attention of civilians, particularly during the COVID-19 pandemic.
The accessibility and speed of air ambulances make them an excellent transportation option for COVID-19 patients. Also, they come with a wide range of cutting-edge medical equipment to ensure that patients receive quality medical care during the journey. That makes them suitable for handling various healthcare emergencies.
Air ambulances are suitable for the medical transfer of critically ill patients who need to travel more than 500 km but aren't fit to fly with commercial airlines. Also, they're helpful for transporting patients from remote, inaccessible locations that are out of reach for ground ambulance services.
Additionally, medical air ambulance services come in handy for organ transport and medical repatriation. You can even use them to transfer neonatal and pediatric patients.
Why Choose AirJet.Line?
If you're looking for air ambulance services in Roswell, you've likely already scoured the internet. While you'll find plenty of options, it's worth remembering that not all of them provide the same quality of service.
Here are a few reasons why you should choose AirJet.Line as your medical air transport provider in Roswell, New Mexico:
State-of-the-Art Medical Equipment
At AirJet.Line, we understand that critically ill patients need immediate medical attention to improve their likelihood of survival. All our air ambulances come with advanced medical equipment, including heart monitors, infusion pumps, external pacemakers, ventilators, and ECMO machines.
Also, we provide portable incubators for the transfer of neonatal patients. Similarly, we use specialization isolation pods for the transfer of COVID-19 patients. These units come with an in-built airflow system and can be plugged into onboard life support devices.
Trained Medical Crew
We leave no stone unturned to ensure that your loved one receives the best medical care. We ensure that a trained medical team, comprising nurses and paramedics, accompanies every patient.
Also, our staff members go through rigorous training so that they're ready to handle mid-air emergencies and administer life-saving interventions. They even monitor a patient's vitals and relay them to the receiving facility.
Excellent Customer Support
We know that finding a loved one in a medical emergency can be a stressful experience. Our customer support team is available round-the-clock to walk you through the process of arranging a medical transfer.
Also, we provide bed-to-bed services for the transfer of patients from the airport to nearby hospitals, including Eastern New Mexico Medical Center, Lovelace Regional Hospital, and Covenant Medical Group Roswell.
You can even avail of our medevac services for transferring patients from foreign countries.
So, the next time you're looking for a reliable air ambulance service in Roswell, don't forget to reach out to us.