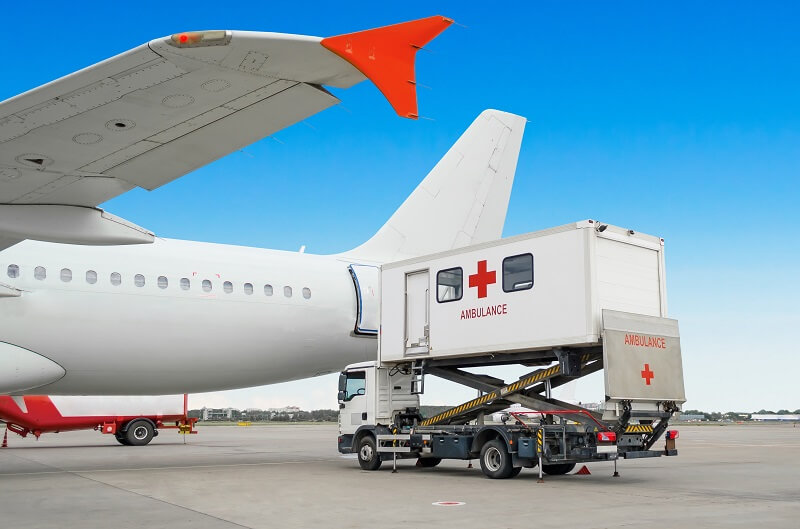 Reasons for Quick Medical Repatriation to Reduce the Risks
Medical repatriation is often essential when you or your loved ones are gravely injured or ill overseas. Air ambulances can immediately and safely return the patient to US soil so that he or she can receive adequate medical attention.
So why is it necessary to bring patients back to the country to receive proper medical care? These are some of the reasons.
Lack of Proper Medical Services Abroad
In many countries, medical facilities are not as efficient as in the US. Lack of proper medical equipment and skilled doctors can prove detrimental to a patient's health. Airjetline's superior air and ground ambulances can quickly and efficiently transport a critical patient to better medical facilities in the US and reduce the risk of improper treatment. It might be necessary to stabilize the patient before transportation sometimes. Our highly trained medical staff can administer adequate medical care to the patient while boarding and during the flight.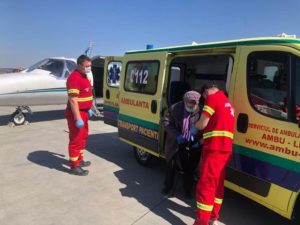 Coverage Provided by Insurance or Medicare
Although medical repatriation can be quite expensive, it still might cost less than getting treated in a foreign country since the patient might not have insurance for medical expenses abroad. It is always advisable to check with the patient's insurance company to learn about the coverages applicable for medical care abroad and an air ambulance. Without coverage, medical bills can rise very high over there. You can get quotes from air ambulance companies so that you can compare the costs of medical repatriation and continuing treatment where you are.
US Doctors Have Access to Patient's Medical History
Doctors abroad might have to run several tests to understand a patient's medical status, whereas doctors in the US will have access to their complete medical history.
Care of Loved Ones
When a patient falls ill or gets injured in a foreign country, they often have to navigate the medical care facilities on their own. The doctors and other medical staff may or may not speak English. Once bought back home, patients can be with their loved ones who can provide a lot of love and support. Studies have shown that patients show faster and better recovery under the care of loved ones.
At Airjetline, we can provide various kinds of services to get the patient back home, such as communicating with the foreign medical staff in their language to understand the extent of the medical emergency. We can also work with the local airport authorities and immigration to expedite the patient's transportation back to the country. In life-threatening conditions where medical facilities might prove to be insufficient, time is of the essence. We can provide an air ambulance worldwide within a short time to evacuate the patient.
In the most severe cases, our air ambulance services can reach the patient within 24 hrs, depending on the patient's location. Our medical repatriation advisors can provide adequate directions and suggestions regarding the options. Repatriation options can depend on various circumstances.
Patient's Medical Condition
Depending on the severity of the patient's medical condition, medical transportation options can get decided. Extremely severe cases would need to be transported by an air ambulance plane. That includes patients who are on ventilators or those who need more than 2-3 liters of oxygen per minute. Stable patients who are not in critical condition can be transported by stretcher or with a medical escort by commercial airlines. For very short cross border distances, patients can get transported by air ambulance helicopters or ground ambulances. The only patients who cannot get transported internationally are mothers who are in labor.
Location of Patient
We can provide air ambulances to any place on earth, as long as the country is not at war. Depending on the distance of the patient's location from the desired destination, the type and mode of medical transportation will be determined. Since air ambulance costs get calculated per mile, stretcher transport or medical escorts would be less expensive in case of less severe cases. We can recommend the shortest flight available from the location and provide bed-to-bed support by ground transportation.
Costs
As we mentioned before, medical repatriation can be expensive, especially air ambulances. If the costs do not matter, or if there is adequate insurance or medicare coverage, then air ambulance is the best option as it provides the safest and fastest transportation. There are other, more affordable options, such as stretcher support, medical escorts, and ground ambulances. However, these options might only be feasible if the condition and location of the patient justify it.
Family Members with the Patient
Family members can accompany the patient during medical evacuation in almost all of our modes of transportation. In an air ambulance, the number of accompanying family members might be limited to one or two, depending on the patient's circumstances, onboard medical personnel, and equipment.
Other than the information mentioned above, here are a few FAQs that patients and their family members usually ask.
How much notice do you need to provide air ambulance services?
Although it is advisable to book an air ambulance a few days in advance, we understand that accidents cannot be foreseen. In urgent circumstances, we can begin preparations for medical evacuation within 2 – 4 hrs after we receive confirmation. Some factors can determine the time required, such as the need for special equipment, location of the patient, immigration requirements, landing arrangements, and a few others. If the circumstances permit you to book an air ambulance in advance, we recommend a 5 to 7 days notice period.
Does medicare cover air ambulances?
In certain medical cases, Part B of medicare might cover the cost of air ambulances. Certain conditions define the requirement of an air ambulance, which should be cross-checked.
Does insurance cover air ambulances?
That is entirely dependent on your travel, health, or medical policy and the insurance company. The best thing to do would be to check with them directly.
Do air ambulances fly at night?
Air ambulances can fly at night very well, however not all airports or landing places allow night landing. We will check this before planning the itinerary but there might be a possibility that the patient might need to be transported by ground ambulance from the nearest airport that allows landing at night.
Air Ambulance In New York \ air ambulance cost mexico to usa
JFK is located in the Jamaica neighborhood of Queens in New York, 26 km of Midtown Manhattan.
There are very many excellent hospitals in New York and also a few miles from New York. For example Jamaica Hospital Medical Center is 3.3 mile away, NewYork-Presbyterian Queens Hospital 7.6 mile away, North Shore University 13 mile.
Medical Air ambulance in New York
AirJet.Line Works in cooperation with all medical centers in New York and in all the 50 states in the USA. Below is a list of the services we provide to our clients to bring them safely anywhere in the world with the most professional medical staff:
Air ambulance service worldwide, Medical repatriation, Medical flights, Helicopter medical flight, private jet service and etc. 
Case Study : Fast Medical flight from New York to Boston: 
Daniela, a 20-year-old student living in New York, needed a kidney transplant and waited many years on the list. When she suddenly received the long-awaited phone call about a deceased person and there was a match between them. As is well known, she only had a few hours to get to the hospital and perform the surgery in order for it to be successful. The problem was the hospital was in Boston. Traveling there was out of the question so it was decided to fly her on a medical flight from New York to Boston. Within half an hour we were able to organize the medical staff and the flight crew and Daniela was on the flight within an hour from the moment she called us. The flight was successful and so was the surgery. Today Daniela lives a healthy and happy life in New York. If you need medical flight services, do not hesitate to contact us at any time of the day: +44 (20) 80680205. Our Team available on whatsapp>> https://bit.ly/2Olw3Kf 
Medical FLIGHTS TO New York worldwide:
We operate medical flights to New York from anywhere in the world. As is well known, Americans love to travel the world, and Africa is one of the popular destinations for safari trips. Melissa, a 47-year-old mother of 4 from New Jersey, fulfilled a dream and flew with the family to travel and volunteer in Kenya. One night her fever rose significantly and after tests at a local hospital she was diagnosed with malaria. Malaria is one of the deadliest infectious diseases in the world. It is spread through the bite of the female Anopheles mosquito, which transmits the malaria parasite from person to person. After her condition deteriorated she was urgently referred to a hospital in the capital. Her condition did not look good and she was breathing and anesthetized. Her family was very concerned about her and after consulting a private doctor they were advised to get medical treatment in the United States. The family knew that every passing day was critical so she decided to make a medical flight from Kenya to New York. We got the call at 3 at night, after sending all the relevant documents and medical advice our operations team prepared a comprehensive medical flight plan and within 3 hours Melissa and her family were on the plane on their way to get medical treatment in the US
non emergency medical air transport cost Varies depending on the size of the aircraft.
The flight passed safely, Melissa received the required medical treatment and recovered in a hospital near her home for a week. After her release she sent us a particularly moving letter of recommendation:
"Thank you so much to all the amazing flight crew, even though most of the time I was not conscious but my family praise the prompt and professional treatment. Thanks to you I was able to receive life-saving medical care. There are not enough words to thank you."
Medical repatriation to JFK New York
Injury, illness or need for essential medical care – in any situation we have the best experience and staff to perform the task.
If you are located in another area of ​​New York or another country and need to get to JFK International Airport or a selected hospital, we can help you reach your destination safely. We have an experienced medical team, a professional operations team and all the medical equipment required. Do not hesitate to contact us at any time of the day >> any time of the day: +44 (20) 80680205 |(888) 244 0738
How Are Air Ambulances Helping Meet the Emergency and Non-Emergency Medical Conditions in New York?
The pandemic has shown how crucial air ambulances are for carrying patients from one part to another. The comfort and safety of the intensive care pods, specially designed to take care of the patients suffering from COVID-19, have led to saving many lives during these desperate times.
Some of the pioneering mobile intensive care companies rose to the occasion to facilitate the travel requisites of patients in a medically secure way. A chief aspect worth mentioning here is controlling the costs while maintaining the quality of service.
Medical Air Transport & air ambulance cost international
The medical air transport service providers are working in tandem with the large hospitals of New York. It ensures that you have the best care while you are on board these air ambulances or on the ground. It also enables a seamless transfer and rapid treatment process initiation with the help of integrated patient data exchange between the New York hospitals and the air ambulance service providers.
Twenty-four hours availability across seven days of the week, and a determined team that oversees all the planning, helps to aid the patients in more ways than you know. It can include, and is not limited to:
Plan and look after the entire operation
Look after every detail of the medical air transport
Coordinating the ground transportation from the departure to the arrival cities
Supporting the aircraft transportation, be it via private or commercial flights
Handpicked personalized medical crew to facilitate the transport
The need for such ambulances can arise in – emergency or non-emergency medical conditions of the patient.
Emergency Medical Air Transport
When someone meets with an accident or has a critical condition, such patients require immediate transport for treatment. They may have such a fetal condition while they are in New York or its vicinity. The air ambulances make sure that these patients get the care under the supervision of medical experts, aided by a stuffed and equipped aircraft.
The emergency medical flights have an experienced crew on board, which includes and is not limited to the pilot, flight paramedic, flight nurses, and a transport respiratory practitioner. They are capable of dealing with any medical emergency. The crew members on board have to have a compulsory five years of experience in critical care (ICU/CCU) before they can qualify for such a job.
You will often find the crew members of an emergency medical flight in New York to have specializations in:
Neonatal Air Ambulances
Pediatric Advanced Life Support
Pediatric Medical Flights
Advanced Trauma Life Support
Geriatric Medical Transportation
Non – Emergency Medical Air Transport
Most often, people tend to have confusion about air ambulances. They consider them to aid only during medical emergencies. Although it is one of the most crucial jobs of air ambulances, it is not the only purpose.
People who need non-emergency medical air transport can reach out to the various air ambulance service providers in New york. It is crucial when you or the patient you look after needs to board a flight to or from New York. You can opt for their services when the health conditions do not permit travel by commercial flights.
The flexibility of such services can aid you to either opt for non-emergency medical air transport or a medical expert to accompany your loved one or you on the commercial flight. The first one often proves to be a bit costly, while the latter can help you with some savings.
Elderly Medical Air Transport
You can live far off from your elderly parents. When you plan to shift them from their current location to your new address in New York, you would want to have someone who will allow you to have remote access for such a job.
This kind of job necessitates the need for deliberation and exercising utmost care while shifting such people. An air ambulance service provider can help you identify the required solution based on your elderly parent's health conditions. Post determination of this aspect, they can assist you to opt for the right flight, be it private or commercial.
These services can aid you to have:
The movement of your elderly parents to long distances without the worry of their ailing conditions
The coordination with the residence or the nursing home facilities where they are currently staying
The coordinated air transfers at any point of time in the day or night
Custom quotes as per your need for medical transportation
So if you need immediate medical attention anywhere in New York, you can opt for the services of the air ambulances at times of need. They can support an ailing patient, be it an emergency or a non-emergency medical air transfer. The expert panel on the board and the crew help you to identify the best possible solutions.
We will be happy to give you Consulting and plan for you the most optimal Medical flight plan.