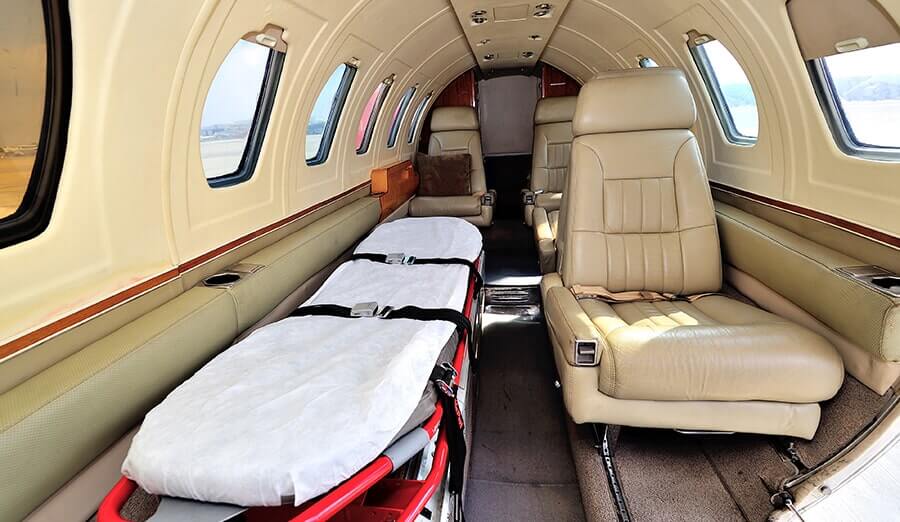 Medevac by ambulance aircraft
Our company provides medevac plane, private airline evacuation services from one country to another in the fastest and most convenient way for the patient. We coordinate with ground service at each destination and we also perform complex tasks such as picking up the patient from a place where they are unable to make one direct flight, to a destination where we can co-ordinate a connection flight, arriving WING TO WING, thus ensuring patient and family members efficient handling and ongoing care between transitions.
Upon reading the patient's medical report data to our team of doctors, we will arrange an aircraft that can perform the task. The aircraft is equipped with advanced medical devices for intensive care, and airborne medical staff will accompany the family and patient together. Arriving at the aircraft involves coordinating with a ground ambulance at the takeoff and landing destination.
The ambulance service will receive a direct call from the ground service company located at each airport, and from there they will direct the ambulance right up to the entrance of the aircraft, where you will meet the team of pilots for the mission.
Another situation requiring professional intervention is transporting the patient to the air ambulance from places that have aircraft access restrictions, where we operate helicopters that can land at the nearest point of the accident along with the medical team. After handling the ground conditions we will make a quick flight to the nearest hospital in that country.
Typ
es of aircraft for ambulance flights include: ambulance plane
Jet type aircraft Citation C650 capable of receiving medical staff including doctor and paramedic, 2 pilots, flight attendant, patient and 4 family members.
A type aircraft The HAWKER 800XP is capable of long flights of up to 6.5 hours of air time range without stopping for fuel.
A type aircraft Challenger 604 is capable of direct flights of up to 9.5 hours without stopping fuel.
We provide VIP care to all our patients to ensure they and their families have a smooth and comfortable flight that is sensitive to the patient's needs. All paramedics and doctors who work with us have been certified to transport patients on air ambulance. We can advise you on choosing a healthcare service at the destination.
These days we perform covid flights from every destination in the world using a special insulated cell for the patient with oxygen throughout the flight hours at high levels to 12 liters of oxygen per minute.
Patient safety is our priority and in addition we can help hire suitable vehicles for family members on arrival at the airport. We can also arrange large aircrafts that can include several patients and up to 30 passengers on a flight.
24/7 medical evacuation plane