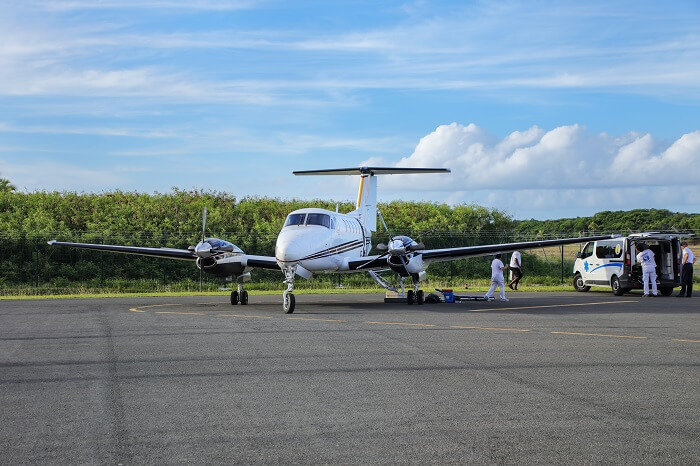 Newark Liberty International Airport
Air Ambulance in Newark 
Medical Air Transport in Newark: Introducing the Best Air Ambulance Service in Newark, New Jersey
1918, World War I. A Serbian officer is injured on the battlefield. His condition is critical and needs urgent medical attention.
That wasn't possible on the battlefield as the officer needed to be hospitalized. So, the French Air Service organized a special medical flight for the officer and airlifted him to a nearby hospital.
It was the first-ever recorded use of medical air transport.
Air ambulance services have since then become a part of the military. Years later, government leaders, high-ranking officials, and VIPs have also begun utilizing medical flights.
Nowadays, even civilians have started using medical air transportation services to seek emergency treatment, organ transport, medical repatriation, and international medical transfer.
Why Use an Air Ambulance Service?
When seeking medical assistance for a loved one, you'll often find that your local health facilities or hospitals don't provide the service you need. In some cases, you have the luxury of taking your time and getting medical assistance from a different state or even another country. However, what happens when a patient is critically ill?
That's where medical air transportation services come to your rescue. Modern air ambulances help your loved ones save valuable time and quickly reach a suitable hospital during an emergency. Air ambulances are also more comfortable since the patient doesn't have to face poor road conditions.
Another crucial benefit of air ambulances is that they have the latest onboard medical facilities. That allows the onboard medical team to cater to a patient as they make their way to the hospital. That makes air ambulances super convenient and highly efficient.
Why Choose AirJet.Line?
The air ambulance service industry is growing in Newark. However, not all the companies you come across can provide the same quality of service as AirJet.Line.
At AirJet.Line, we prioritize customer care and satisfaction over everything else. Our goal is to ensure that you get your money's worth when traveling with us. For that, we leave no stone unturned to help patients get the medical services they deserve.
Here are some of the other reasons why you should choose AirJet.Line as your medical air transport provider in Newark:
COVID-19 Isolation Pods
During the early days of the COVID-19 pandemic, our onboard crew took extreme precautions while handling critically ill patients. That included setting up and handling our COVID-19 isolation pods.
The isolation pod allows the onboard medical crew to monitor and attend to the patient while keeping other passengers on the flight safe. The isolation pods are useful in cases where there are chances of the disease spreading upon close contact.
A Fleet of Modern Helicopters
Planes need airports to land, but helicopters do not. So, in cases where there is no airport nearby, our team can come to pick you up in one of our helicopters while guaranteeing you the same service. The helicopter will then take you to an airport from where you can avail of our plane services if necessary.
Bed-to-Bed Service
Our bed-to-bed service ensures that after landing at the Newark Liberty International Airport, you can immediately reach nearby hospitals, including United Hospital, St. Michael's Medical Center, and University Hospital.
So, the next time you or a loved one needs an air ambulance service in Newark, reach out to AirJet.Line.