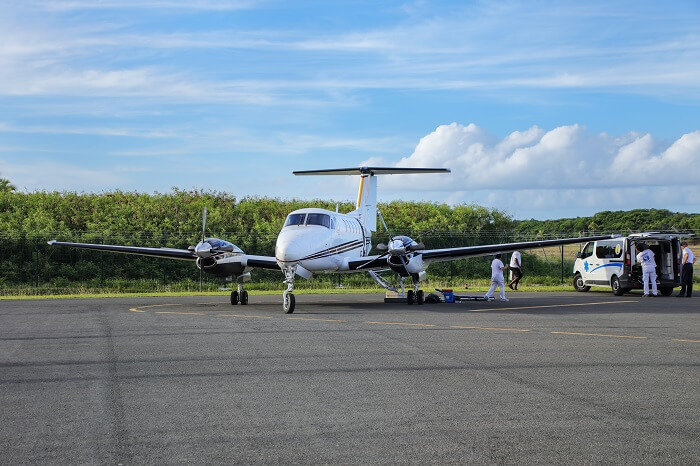 Atlantic City International Airport
Air ambulance in Atlantic City
Medical Air Transport in Atlantic City: Finding the Best Air Ambulance Operator in Atlantic City
There was a time when people associated the idea of medical air ambulances with luxury. After all, the only ones using it back then were rich people, government leaders, or military personnel during wars. For common people, the thought of using medical air transportation services always seemed far-fetched.
However, those days are gone, and an air ambulance service is no longer a luxury but a necessity. Air ambulance costs may not have plummeted much, but people no longer hesitate to use one in case of emergencies.
So, what benefits does an air ambulance service provide?
Why Use Air Ambulance Services?
Medical air ambulance services offer patients a ton of benefits.
The first and most vital benefit is that air ambulances are super fast. Despite the long distances they have to travel, an air ambulance can get your loved one to the desired hospital in hours or even minutes. Long-distance healthcare is now possible due to air medical transportation services.
Also, it's worth noting the cutting-edge medical equipment modern air ambulances have on board. These include everything, from heart monitors and isolation pods to ventilators and life support systems. So, whatever the emergency, you can rest assured that an air ambulance has got you covered.
Besides, there's always a team of medical experts on board to help your loved one settle in the aircraft. They continuously monitor a patient's vitals and provide them with the necessary medical care. While ground ambulances have paramedics who attend to patients similarly, the level of comfort isn't the same on land as it is thousands of feet in the air.
Why Choose AirJet.Line?
Atlantic City is a popular coastal city in the US with all the glitz and glamor of modern urban life. Like any big city, it offers several air ambulance services to choose from. However, none of those can guarantee the same service and satisfaction as AirJet.Line.
At AirJet.Line, our priority is ensuring every patient's comfort and safety.
We are in it not for the business but so that we can serve people, like you, who need urgent medical care and rely on air ambulances. Here are a few reasons why you should choose AirJet.Line as your air ambulance service in Atlantic City:
Anywhere, Anytime
Our company offers a diverse fleet of medical flights. So, even when there is no airport nearby, we can come to pick you up. Our plane and helicopter fleets are equally equipped to cater to every patient's medical needs.
Organ Transport
Our onboard team of experts will keep the organs to be transplanted in optimum condition at all times. So, when the organ reaches its destination, it is ready to be transplanted immediately.
From the Plane Straight to the Hospital
We provide bed-to-bed service to take your loved one from the Atlantic City International Airport to nearby hospitals like AtlantiCare Regional Medical Center and AtlantiCare HealthPlex. All within a few miles of the airport.
Besides, we offer isolation pods for COVID-19 patients and even use portable incubators for the transfer of neonatal patients.
So, reach out to us at AirJet.Line if you're ever in Atlantic City and need an air ambulance service.