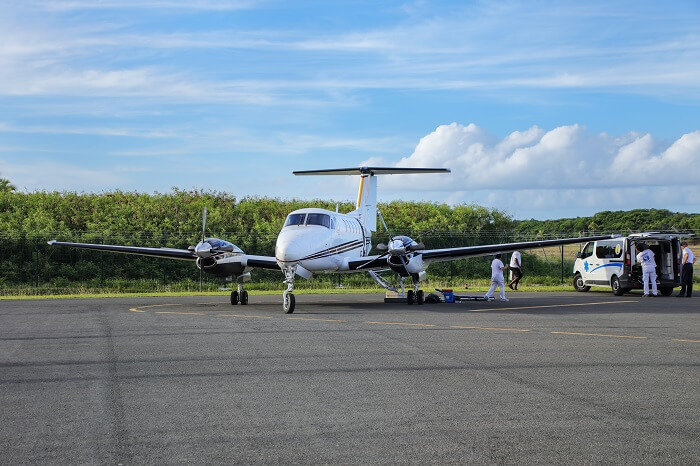 Alamogordo White Sands Regional Airport
Air Ambulance in Alamogordo
Air Ambulance Service in Alamogordo: Choosing the Best Medical Air Transport Provider in Alamogordo, New Mexico
A medical air ambulance service is no longer a luxury or war-time necessity. It's now a part of our regular medical needs, especially when a critically ill patient needs to travel more than 500 km, and regular commercial flights cannot comply with such a request.
In recent years, the need for domestic critical care air ambulance services has grown exponentially. Especially during the early stages of the COVID-19 pandemic, we've seen a rise in the demand for air transportation options for coronavirus patients. Besides, medical air transportation providers offer several other benefits to their clients.
Benefits of Medical Air Transport Services
People heavily relied on air ambulances during the initial stages of the COVID-19 pandemic. Time was of the essence as COVID patients needed urgent care within the shortest time possible.
As the necessary medical facilities to deal with the novel coronavirus were not readily available everywhere, people needed to find alternatives. In many cases, these alternative health facilities were located far away, which is why the demand for air ambulance services soared.
Besides, since medical transfers by air are super-fast, air ambulances are ideal for organ transport. So, people these days not only use air ambulances for medical repatriation or seeking treatment abroad but also for organ transportation.
What makes an air ambulance even more reliable is that it always comes with a vast array of sophisticated medical equipment. So, apart from being comfortable for the patient, air ambulances come with the best technology the medical industry has to offer patients.
Some of the most common medical equipment you will find on board include heart monitors, ECMO machines, and ventilators. That makes air ambulances suitable for emergency patient transfers over long distances.
Why Choose AirJet.Line?
You will find many medical air ambulance operators in Alamogordo, New Mexico. However, not all of them can provide you with the same quality of service as AirJet.Line.
At AirJet.Line, client satisfaction is our priority. We make sure that our patients are comfortable and getting the attention and care they need during the journey.
Here are a few reasons why you should consider AirJet.Line if you are ever in need of an air ambulance in Alamogordo, New Mexico:
Well-Trained Crew
At AirJet.Line, we provide the best medical crew to every patient. The crew is well-trained and can deal with any emergency. They have the necessary skills to tackle all sorts of unforeseen medical circumstances.
Also, our pilots are well-trained to operate medical flights. Thus, the in-flight experience for the patients is always comfortable and safe.
Bed-to-Bed Transfers
To make it more convenient for your loved ones, we provide bed-to-bed transfers from the airport to nearby hospitals. After landing at the Alamogordo-White Sands Regional Airport, we can transfer patients to nearby hospitals, including Gerald Champion Regional Medical Center, White Sands Women's Healthcare, and Southern New Mexico Surgery Center.
World-Class Medical Equipment
The onboard medical equipment we provide is of the highest quality. Our medical facilities include everything- from external pacemakers and ventilators to infusion pumps and in-built airflow systems.
The flights also have life support systems in case the patient goes into a critical condition. Additionally, we provide isolation pods for the transfer of COVID-19 patients. You can also avail of our portable incubators for the medical transfer of neonatal patients.
So, the next time you find yourself looking for an air ambulance service in Alamogordo, New Mexico, don't forget to reach out to us.