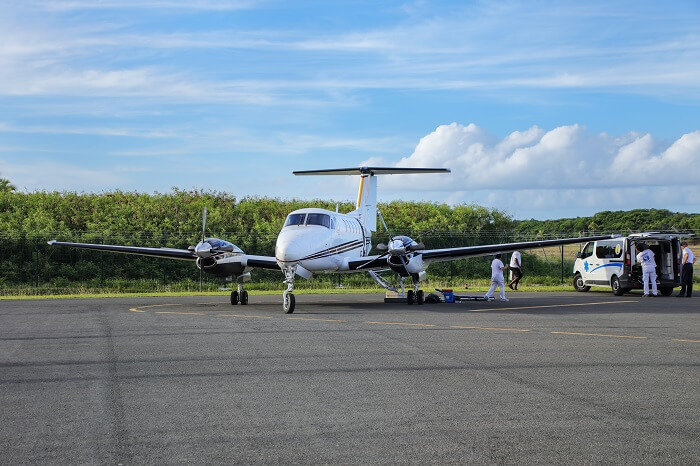 Tucson International Airport
Air Ambulance in Tucson 
Medical Air Transport in Tucson: Finding a Reliable and Safe Air Ambulance Service in Tucson, Arizona
There's nothing scarier than finding a loved one in a medical crisis. You feel desperate and helpless. All you want is to help them get the medical treatment they need in the shortest period. The good thing is that an air ambulance can help take care of your loved ones during such emergencies.
When to Use an Air Ambulance Service
Medical flights have come a long way from being the go-to mode of transportation for injured soldiers. Today, air ambulances are used for the medical transfer of children and adults from remote, hard-to-reach locations.
They come in handy for critically ill patients who need to travel more than 500 km and aren't fit to board commercial flights.
Air ambulances have also become a popular transportation option for coronavirus patients. The use of sophisticated medical equipment, including ventilators, ECMO machines, and isolation pods, helps safely transport COVID-19 patients without exposing their family members or the flight crew to the virus.
The accessibility and speed of air ambulances make them useful for several other situations, including medical repatriation and organ transport.
Why Choose AirJet.Line?
A simple Google search for "air ambulance Tucson" will flood you with options. Whether you're looking for a domestic or international air ambulance company in Tucson, you'll be spoilt for choice. But it's worth keeping in mind that all air medical transportation services aren't created equal.
Here are a few reasons why AirJet.Line stands out as one of the best air ambulance services in Tucson, Arizona:
Top-Notch Patient Care
At AirJet.Line, patient satisfaction and comfort are our topmost priorities. We leave no stone unturned to ensure that your loved ones get the medical treatment they need when they board one of our air ambulances.
All our air ambulances come with state-of-the-art medical equipment, from heart monitors and external pacemakers to IV pumps and intensive care units. Also, we use portable ultrasound scanners, blood analyzers, and other diagnostic tools to monitor a patient's condition during the journey.
You can even use our portable incubators for the transfer of neonatal units. Similarly, we provide self-sufficient isolation units for the medical transfer of COVID-19 patients.
Also, we ensure that a trained medical crew, comprising nurses and paramedics, accompanies every patient. They monitor a patient's vitals and relay the information to the receiving facility. They can administer life-saving procedures during mid-air emergencies as well.
24×7 Availability
We understand that medical emergencies can arise anytime during the day. Our customer support team is available round-the-clock to handhold you through the process of arranging an air ambulance for your loved one. We even help you complete the necessary paperwork.
Additional Services
You can avail of our bed-to-bed services to transfer patients from the airport to nearby hospitals, such as Tucson Medical Center and St. Joseph's Hospital. Our goal is to ensure that every patient reaches their final destination safely and at the earliest. We even provide medevac, organ transport, and sea-level flight services.
So, the next time you're looking for an air ambulance company in Tucson, feel free to reach out to us.