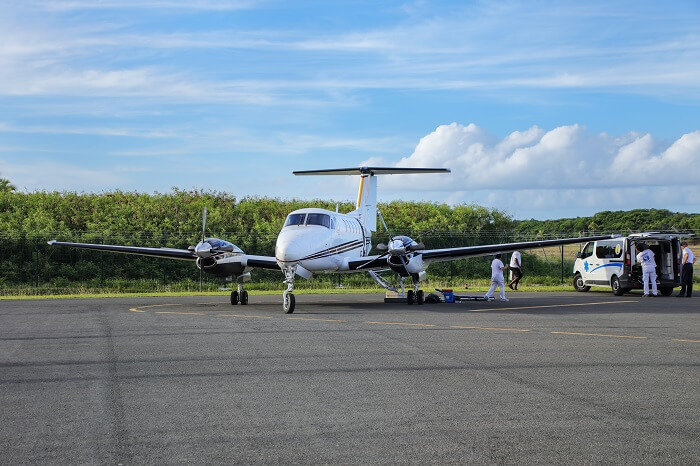 Tampa International Airport
Air Ambulance in Tampa 
Air Ambulance in Tampa: Choosing the Right Medical Air Transport Service in Tampa, Florida
There was a time when the mention of an air ambulance immediately brought visuals of helicopters transporting injured soldiers from the battlefield. Today, air ambulance flights have evolved to become one of the most preferred transportation options during medical emergencies.
The Changing Role of Air Ambulance Services
The use of medical air ambulance services is no longer restricted to the military. Instead, civilians are increasingly opening up to the idea of using medical flights to transport critically ill or injured loved ones to nearby hospitals.
An air ambulance is ideal for transferring patients who need to travel more than 500 km but aren't fit enough to fly with a commercial airline. The presence of onboard medical equipment, including heart monitors, ECMO machines, and ventilators, ensures that patients continue to receive the best medical care during the journey.
Medical air transport assumed an even more crucial role during the COVID-19 pandemic. The excellent speed and safety of an air ambulance make it an effective transportation option for coronavirus patients. It's beneficial for severely ill patients who've suffered significant lung damage and need a constant oxygen supply.
Besides medical transfers, air ambulances also come in handy for organ transport. They're just as useful for medical repatriation.
Why Choose AirJet.Line?
If you type "air ambulance in Tampa" into Google, you'll come across numerous options. But when you're concerned about the safety of your loved ones, it's essential to find a reputable and trustworthy air ambulance service in Tampa.
Here are a few reasons why AirJet.Line stands out from other medical air transport operators in Tampa:
Excellent Medical Crew
At AirJet.Line, we believe that an air ambulance service is only as good as the medical crew members accompanying our patients. We provide every patient with an experienced critical care team comprising nurses, paramedics, and physicians. They're trained to monitor a patient's vitals and initiate life-saving interventions during emergencies.
Our goal is to ensure that your loved one starts receiving proper medical care from the moment they board the air ambulance.
Advanced Medical Amenities
All our air ambulances come with state-of-the-art medical equipment, including external pacemakers, portable incubators, ECG machines, infusion pumps, and more. Whether a patient needs an external oxygen supply or ventilation, we'll cater to their needs.
We've even procured portable isolation units to transfer COVID-19 patients. These units come with an in-built airflow system and can be plugged into mechanical ventilators, intensive care units, and other life-support equipment.
A Wide Range of Services
Besides onboard medical amenities, we also ensure that every patient arrives safely at the receiving hospital. We even help transfer patients from the airport to nearby hospitals in Tampa, including Tampa General Hospital, HCA Florida South Tampa Hospital, Kindred Hospital Central Tampa, and more.
Our customer support executives are available round-the-clock to handhold you through all your queries. Also, they'll help you complete the necessary applications and paperwork for medical evacuation.
Whether you're looking for a sea-level flight, organ transport, or bed-to-bed transfer, we've got you covered. Feel free to reach out to us the next time you need air medical transportation services in Tampa.