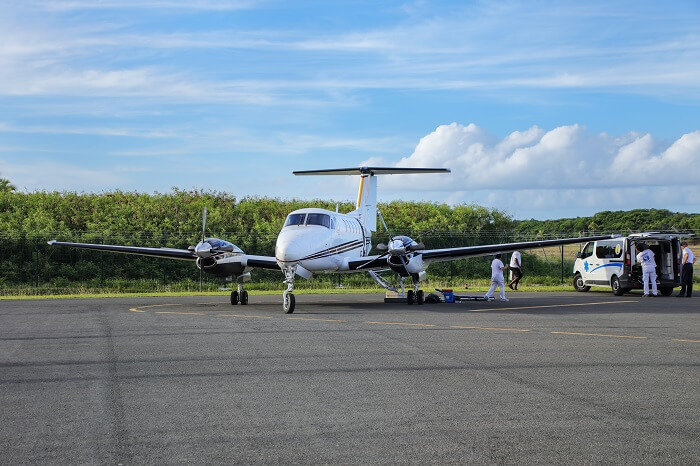 San Francisco International Airport
Air Ambulance In San Francisco
Medical Air Transport in San Francisco: Finding the Best Air Ambulance Service in San Francisco
Medical air ambulance services have been a crucial part of healthcare emergencies. They've assumed an even bigger role during the global healthcare crisis triggered by the COVID-19 pandemic.
Whether you're looking for a transportation option for coronavirus patients or need urgent medical repatriation services, an air ambulance is the right fit for your needs.
Why Use an Air Ambulance Service?
The biggest benefit of a medical air ambulance is its speed. That makes it suitable for transferring critically ill or injured patients to any medical facility. It's particularly useful when you need to transport patients from remote and inaccessible areas.
With an air ambulance, you can rest assured that your loved ones will get the medical treatment they need at the earliest. That, in turn, improves their chances of recovery and survival.
Also, modern medical flights are equipped with a wide array of amenities, such as intensive care units and isolation pods for COVID-19 patients. It ensures that patients receive the right medical care as soon as they're onboard.
Air ambulance crews can even relay a patient's vitals and other information to the receiving hospital. That, in turn, helps the receiving facility stay prepared to treat the patient.
Apart from medical transfers, air ambulances are also used for organ transport and evacuation of patients from foreign countries. They're particularly useful when a patient needs to travel more than 500 km and isn't fit to board a passenger airline.
Why Choose AirJet.Line's Medical Air Transport Services?
A simple Google search for "air ambulance US" will provide you with the details of several medical air transport operators in San Francisco. But there are a few factors that set the best air ambulance services in San Francisco apart from the rest.
Here's what makes AirJet.Line the right choice for an air ambulance service in San Francisco:
World-Class Services
At AirJet.Line, we're focused on catering to the needs of every patient. That's why all our air ambulances come with sophisticated medical equipment, including stretchers, heart monitors, infusion pumps, blood gas analyzers, ventilators, and ECMO machines.
We strive to ensure that every aircraft is equipped to provide quality medical care in case of mid-air emergencies.
Also, we provide a wide array of other specialized services, including medevac, organ transport, and sea-level flights. We even offer air ambulances for the medical transfer of children and newborn babies.
Our air ambulances come with portable isolation pods that can be hooked to any life-support system available onboard. Featuring an in-built airflow system, these units are ideal for transferring COVID-19 patients.
We even offer bed-to-bed services to transfer patients from the airport in San Francisco to nearby hospitals, including Kaiser Permanente South San Francisco Medical Center, UCSF Medical Center, and Zuckerberg San Francisco General Hospital & Trauma Center.
Experience Medical Crew
We believe that an air ambulance service is only as good as the medical crew accompanying the patient. That's why we assigned a dedicated team of paramedics and nurses for every patient. They're trained to provide immediate medical care and administer life-saving interventions during mid-air emergencies.
24/7 Availability
Our customer support executives are available round-the-clock to assist patients' families with their queries. Also, we'll walk you through every step of arranging medical air transport for a loved one.
So, the next time you're in need of an air ambulance in San Francisco, feel free to reach out to us.