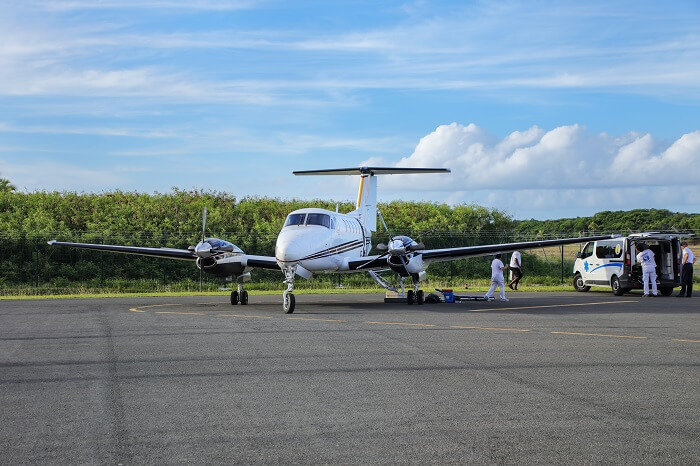 Reno Tahoe International Airport
Air Ambulance in Reno
Medical Air Transport in Reno: Choosing a Reliable and Trustworthy Air Ambulance Service in Reno, Nevada
Are you looking to transfer a family member to or from a hospital in Reno? Is the patient situated in a remote, inaccessible area that ground ambulance services can't reach? Also, is the patient's health so fragile that they can't travel long distances on a commercial flight?
Then an air ambulance is the best option for your loved one.
When to Use an Air Ambulance
The use of air ambulances is no longer restricted to transporting injured soldiers from the battlefield to hospitals. Medical flights have emerged as the go-to transportation option for coronavirus patients during the pandemic.
The lightning-fast speed and sophisticated medical amenities of an air ambulance make it suitable for transferring critically ill or injured patients over long distances. They help minimize any delays in providing patients with proper medical care and improve their likelihood of survival.
Air ambulance services are particularly useful during medical emergencies, such as accidents, natural disasters, and pandemics. Besides the medical transfer of children and adults, air ambulances are useful for executing medical repatriation and organ transport.
Why Choose AirJet.Line?
If you or a loved one needs emergency medical transport in Reno, chances are you've already scoured Google for a reliable air ambulance company. But the diverse range of air ambulance services available on the internet will overwhelm you.
Here are a few reasons why AirJet.Line is one of the best medical air transport operators in Reno, Nevada:
World-Class Medical Equipment
At AirJet.Line, we ensure that all our air ambulances come with specialized equipment, including heart monitors, external pacemakers, intensive care units, ECMO machines, ventilators, and more. We even provide portable incubators for the medical transfer of neonatal patients.
Also, we use sophisticated isolation pods to transfer COVID-19 patients. These portable units come with an in-built airflow system to help maintain the patient's SpO2 levels. Also, our medical crew can plug the unit into onboard life-support devices if the patient's health deteriorates.
These units provide COVID-19 patients with the best care while minimizing the risk of exposure for family members and the medical crew accompanying them.
Top-Notch Patient Care
We recruit skilled paramedics, nurses, and physicians to accompany every patient during their journey. Our medical crew goes through rigorous training to ensure that they can identify and manage mid-air emergencies. Also, they can administer life-saving interventions if the need arises.
24×7 Availability
We understand that medical emergencies can arise anytime during the day or at night. Our customer support executives are available round-the-clock to walk you through the process of arranging a medical transfer. They can even help you complete the necessary paperwork and figure out how to pay for air ambulance costs.
Also, we provide bed-to-bed services to transfer critically ill patients from the airport to nearby hospitals, including St. Mary's Regional Medical Center and Tahoe Pacific Hospital. You can avail of our medevac, organ transport, and sea-level flight services too.
So, the next time you're looking for a domestic or international air ambulance service, don't forget to reach out to us.