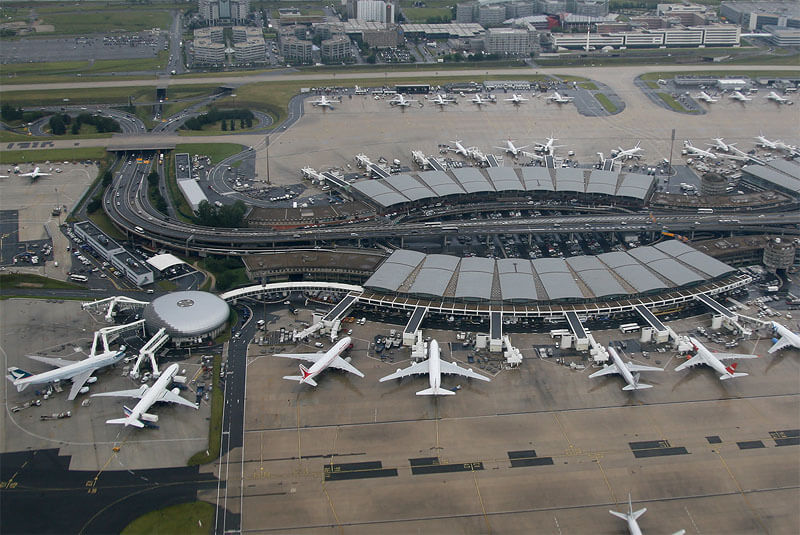 Paris-Charles de Gaulle International Airport
Air ambulance in Paris
Medical repatriation Paris-Charles de Gaulle International Airport
 Paris-Charles de Gaulle International Airport is an airport located 34 km away from the city centre of Paris. It is the main international airport serving paris in France. In Paris there are a large number of hospitals  For instance, Lariboisière Hospital situated 21 km from Paris-Charles de Gaulle International Airport and  25km to the Hôspital-Saint-Louis. Hôspital Necker situated 37Km from airport and American Hospital of Paris located 27 km away. There are many more excellent hospitals in Paris, our advantage that we can help the patient after landing to get to any hospital in the country in the safest and fastest way.
Medical flights from Paris-Charles de Gaulle International Airport
You landed for a business meeting in Paris, a family trip or a shopping vacation – you didn't expect you or one of your relatives to need medical attention. The condition became complicated and required medical treatment in the hospital, after receiving the medical treatment, you realized that a commercial flight is not possible in the medical condition and the patient with a medical team must be flown under special conditions to maintain his health. That's exactly why we're here. We would be happy to assist and advise any hour of the day Contact us today for a European number: +41 (22) 518 87 67
After counseling, providing patient information and sending appropriate medical documents, we review each request and consult with our operations department to tailor the optimal flight path and medical staff .
Medical repatriation from Paris-Charles de Gaulle International Airport
One of our outstanding Medical repatriation story's in Paris is a medical case of a family who came to visit a family in Paris from London. During one of the family vacation days, John suddenly experienced a huge stomach ache and could not walk on his own. After a few hours they saw his condition deteriorating and he was admitted to the hospital. After several tests, kidney stones were found, doctors warned him to undergo surgery soon before the condition worsened and caused irreversible medical damage. The father of the family did not want to be operated in a place he did not know, preferring to undergo surgery at a private hospital in London because he had other medical problems including heart disease. Doctors warned him that he had a window of several hours to undergo surgery – in the meantime the family was beginning to find out quick and safe ways to get to the London hospital, where they had an operating room with private staff. 
Sarah, the mother talked to us over the phone and we connected her to the professional doctor who, together with the operations department, started planning the medical flight operation from Paris to London. Within 3 hours John and his family were on the plane and successfully landed in London. At the landing, a medical ambulance was waiting for them, which took John to perform the surgery, which passed very successfully.
We have many more medical stories that have been successful thanks to experience, seniority and professional staff that put the patient at the top.
Medical repatriation to Paris-Charles de Gaulle International Airport
As we mentioned at the beginning of the article, Paris has a magnificent list of great hospitals to which people come from all over France and from all over the world. There are around 1,400 hospitals in France.
 What is the process that needs to go through to get medical treatment in Paris or France? As with any other country, the patient and his or her family need to perform the administrative procedure and obtain all permits to undergo a medical procedure in another state, as well as to schedule an appointment or surgery directly with the hospital or the professional who handles the case. Once there is a set date and the patient has all the required medical documents, we recommend contacting us. For a European number, dial: +44 (20) 8068 0205 For a US number, dial: +1 (646) 513 2878
In an initial call, we will ask for all the existing permits, state visa, passports and medical documents indicating the current condition of the patient. The medical documents are forwarded to a qualified doctor who will examine the application and recommend a flight route and the most optimal flight operation. At the same time, our operations department will review the request to verify that all documents are valid, and there is a landing permit for the patient and his escorts in the desired country.
Our medical staff and operations department work with each other in full cooperation, in addition to communicating with the patient's authorized body, whether it is his family, the hospital or the medical staff treating him. We provide holistic care because of the sensitivity of the subject and the importance of patient safety and medical condition, and do everything possible to keep the patient throughout the process.
Discussing Should You Take A Medical Flight? How much does it cost? Is it safe and how does the whole process work? We will be happy to assist you and answer any questions. In the initial conversation, we recommend that you get ready with all the documents to get a detailed answer and to have all the information you need to make the best decision. 
Feel free to contact us any time of the day, we work 24/7 including medical staff and operations department. We specialize in medical flights, ambulance flights, medical repatriation from anywhere and any destination in the world. We will be happy to provide you with advice and quotation free of cost and without obligation.
AIRJET.LINE retains an extensive fleet which includes both helicopters and jets, we provide 24/7 ambulance services to and from the airport, air ambulance services which include on-board doctors and paramedics as well as private charters to your choosing.
Contact us now by filling out your details below and let us make sure that your needs are met by the quickest, safest and most efficient medical air service available