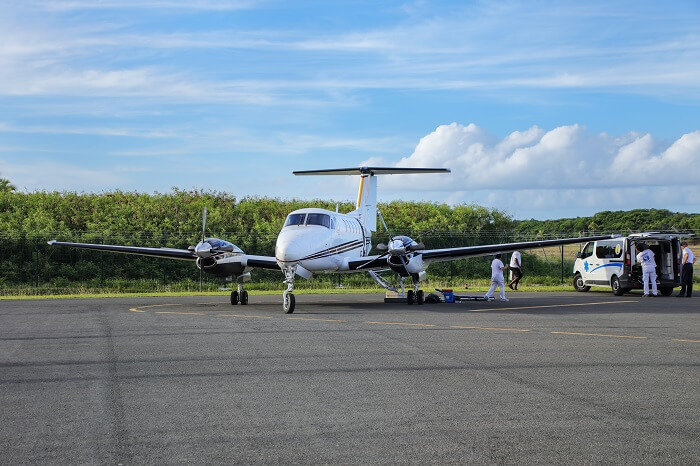 Palm Beach County Park Airport
Air Ambulance in Palm Beach
Medical Air Transport in West Palm Beach: Finding the Best Air Ambulance Service in West Palm Beach, Florida
Are you looking to transfer a seriously ill loved one to or from a hospital in West Palm Beach? If their health is particularly fragile, traditional transportation options, such as ground ambulances, may not be suitable.
In such cases, it's best to find a dependable air ambulance service in West Palm Beach that'll help transfer your loved one to a proper treatment facility at the earliest.
Benefits of Air Ambulances
The most apparent benefit of medical flights is their lightning-fast speed. It makes them the perfect transportation option during medical emergencies, such as accidents, hurricanes, blizzards, etc.
Also, air ambulances are ideal for transporting critically ill patients from hard-to-reach locations, such as forests and hill stations. Even if ground ambulances can access these locations, they'll take hours (if not days) to arrive.
Medical air transport has been a preferred choice for transferring injured soldiers from the battlefield. However, in recent years, air ambulance services have also become popular among patients who need to travel more than 500 km but aren't fit to board a commercial airplane.
Medical flights are equally effective as a transportation option for coronavirus patients. Modern air ambulances come with sophisticated medical equipment, such as ECMO machines and ventilators, to manage mid-air emergencies.
Why Choose AirJet.Line?
When you're looking for air ambulances in West Palm Beach, it's natural to start your search on Google. But the wide variety of air ambulance services in the city will overwhelm you.
Here are a few reasons why AirJet.Line stands apart from other air ambulance services in West Palm Beach:
Expert Medical Crew
At AirJet.Line, we leave no stone unturned to provide quality medical care to your loved ones. Apart from our skilled flight crew, a team of experienced medical professionals, including nurses and paramedics, accompanies every patient.
All our medical team members undergo rigorous training to ensure that they can handle mid-air emergencies. They're well-versed with life-saving procedures, and will continuously monitor and relay the patient's vitals to the receiving facility.
Advanced Medical Amenities
All our air ambulances feature cutting-edge medical equipment, including heart monitors, infusion pumps, external pacemakers, and mechanical ventilators. We even provide portable incubators to transfer neonatal patients.
Also, we've procured state-of-the-art isolation pods for transferring COVID-19 patients. These units come with an in-built airflow system and can be hooked to onboard life-saving devices. It helps our critical care team provide immediate medical assistance if a patient's health deteriorates.
We even provide additional services, such as bed-to-bed transfers from nearby hospitals, including Veterans Affairs Medical Center and Good Samaritan Medical Center. You can also avail yourself of our seamless organ transport and medical repatriation services.
24×7 Availability
At AirJet.Line, we understand that medical emergencies can arise anytime during the day. That's why our customer support executives are available round-the-clock to help you arrange medical air transport for your loved ones at the earliest.
So, the next time you need an air ambulance in West Palm Beach for the medical transfer of children or adult patients, feel free to reach out to us.