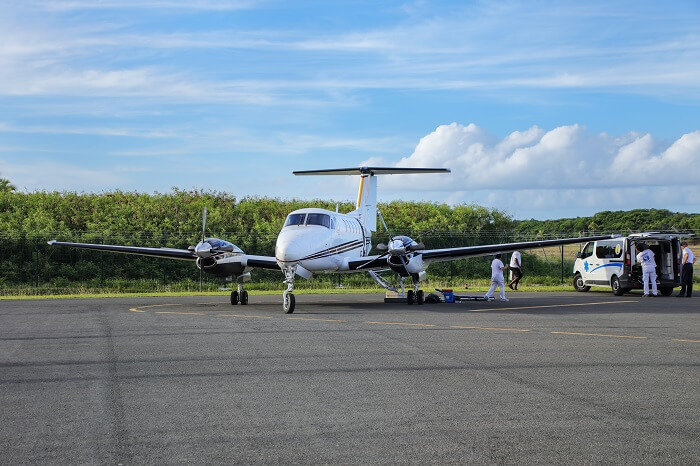 Orlando International Airport
Air Ambulance in Orlando
Medical Air Transport in Orlando: Choosing the Right Air Ambulance Service in Orlando, Florida
Air ambulance services have been an integral part of medical emergencies, such as accidents, floods, cyclones, etc. They're beneficial for transferring patients who need to travel more than 500 km but aren't fit enough to fly with a commercial airline.
When Do You Need an Air Ambulance?
Medical flights come in handy for various situations, such as when a patient has suffered injuries from an accident and is stuck in a remote location. Their speed and sophistication also make them suitable for transferring severely ill patients.
That's because new-age medical air ambulances come with a ton of medical equipment, including heart monitors, portable incubators, external pacemakers, blood gas analyzers, IV pumps, ECMO machines, and more.
It ensures that patients start receiving proper medical care as soon as they board the aircraft. That, in turn, amplifies their chances of survival.
Besides medical transfers, air ambulances come in handy for medical repatriation and organ transport. Also, they've emerged as an effective transportation option for coronavirus patients.
So, if you need to transfer a critically ill or injured patient to or from Orlando without compromising their safety, medical air transport is the right choice.
Why Choose AirJet.Line?
A simple Google search for air ambulance services in Orlando will flood you with options. But if you're concerned about the safety of your loved ones, it's crucial to choose a trustworthy service provider.
Here are a few reasons why AirJet.Line stands out from other air ambulance services in Orlando:
Excellent Medical Crew and Amenities
At AirJet.Line, we strive to ensure that there's no delay in providing patients with the required medical care. Our experienced medical crew, comprising paramedics and nurses, starts administering the right treatment as soon as a patient boards the aircraft.
Also, all our air ambulances are equipped with top-notch medical equipment, including ECMO machines and ventilators, to ensure proper care during mid-air emergencies. We even provide portable incubators for the transfer of neonatal patients.
Similarly, we provide specialized isolation units with an in-built airflow system to transfer COVID-19 patients. The onboard crew can plug these units into life-support devices if the patient's health deteriorates.
Additional Services
Our customers love us because our services aren't restricted to medical flights. We provide bed-to-bed transfers in Orlando to transport patients from the airport to nearby hospitals, including Orlando Regional Medical Center, Nemours Children's Hospital, Orlando VA Medical Center, and more.
Our medical crew even relays the patient's vitals to the receiving facility to minimize delays. Whether you're looking for a sea-level flight or medical evacuation services, we've got you covered.
24×7 Availability
We operate our services round-the-clock to ensure that your loved ones can reach a suitable treatment facility at the earliest. Also, our customer support team is always available to handhold you through the process of arranging a medical transfer.
So, the next time you need an air ambulance in Orlando for a critically ill friend or family member, feel free to reach out to us.