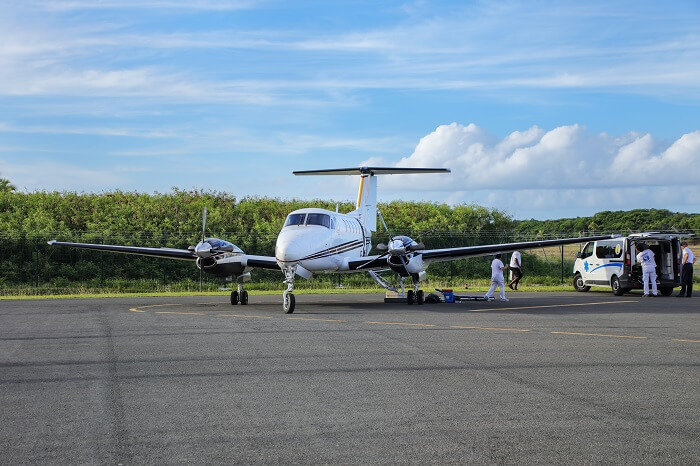 Norman Y. Mineta San Jose International Airport
Air Ambulance In San Jose
Medical Air Transport in San Jose: Finding the Best Air Ambulance Service in San Jose
Air ambulance services have always played a crucial role in medical emergencies. Whether you want to transfer a critically injured family member to the nearest hospital, or need medical repatriation services, a medical air ambulance always comes to your rescue.
When Should You Use Medical Air Transport?
An air ambulance service comes in handy in various emergencies, such as when a seriously ill patient needs to be transferred from one hospital to another. The speed and onboard amenities of medical flights ensure that the patient receives the required care at the earliest.
Air ambulances have been particularly useful as a transportation option for coronavirus patients. Transferring such patients in ground ambulances increases the risk of exposure for the medical staff and drivers accompanying the patient.
With an air ambulance, COVID-19 patients can be transferred in state-of-the-art isolation pods that are equipped with an in-built airflow system. It ensures that the patient reaches a medical facility in the shortest possible time without exposing anyone else to the deadly pathogen.
Air medical transportation services are just as essential for organ transport. They ensure the quick and safe transfer of donor organs to any recipient.
An air ambulance service is also useful for transporting patients from remote areas that aren't easily accessible by ground ambulances. It is particularly helpful when a patient isn't fit to fly on a commercial airline and needs to travel a distance of more than 500 km.
Why Choose AirJet.Line?
If you're looking for an air ambulance in San Jose, you'll find quite a few options. But there are a few factors that set our services apart from other air ambulance operators in San Jose.
World-Class Medical Amenities
At AirJet.Line, we strive to ensure that every patient starts receiving medical care as soon as they board an air ambulance. That's why our fleet of air ambulances is equipped with a ton of medical equipment – from stretchers and heart monitors to ventilators and ECMO machines. We even provide portable incubators for the transfer of neonatal patients.
Experienced Medical Crew
Our list of medical services isn't limited to equipment and tools. Each patient is accompanied by a specialized medical crew, comprising paramedics and nurses. They're trained to monitor a patient's vitals and administer life-saving interventions during mid-air emergencies.
Additional Services
At AirJet.Line, we don't simply transport patients to the airport in San Jose. We also offer extensive bed-to-bed services for patients who need to be in a supine position. We take care of transferring them from the airport to nearby hospitals, such as O'Connor Hospital, Kaiser Permanente San Jose Hospital, and Good Samaritan Hospital.
Also, we offer specialized services for transporting neonatal and pediatric patients. We even offer sea-level flights for critically ill patients.
Safety and Reliability
We prioritize the safety of our patients above everything else. That's why all our air ambulances go through rigorous safety checks to ensure proper functioning. Also, we've obtained the necessary accreditation from established authorities to ensure safe and smooth operation.
So, the next time you're looking for an international air ambulance or a domestic critical care air ambulance service in San Jose, feel free to reach out to us.