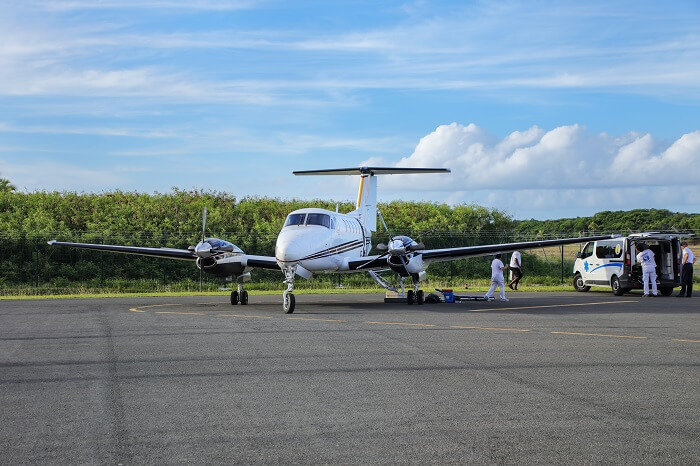 McCarran International Airport
Air Ambulance in Las Vegas
Medical Air Transport in Las Vegas: Finding the Best Air Ambulance Service in Las Vegas, Nevada
What's the first thing that comes to your mind when you find out that a friend or family member is going through a medical crisis. After overcoming the initial anxiety and fear, you want to do everything you can to save their life. But what if they're miles away from you, on a remote desert or island?
That's where an air ambulance service steps into the picture.
The right air ambulance company can be instrumental in ensuring that critically ill or injured patients receive quality medical care at the earliest. They help transfer patients from remote, inaccessible locations to nearby healthcare facilities in the shortest duration.
When Should You Use Air Ambulance Services?
The use of medical flights is no longer restricted to transferring wounded soldiers from the battlefield to hospitals. Today, air ambulance flights are being increasingly used by civilians from all walks of life.
An air ambulance is beneficial for patients who need to travel more than 500 km but aren't fit to board commercial flights. They're ideal for critically ill patients seeking treatment overseas. Also, medical flights come in handy during accidents, plane crashes, and natural disasters, such as earthquakes, floods, etc.
Air ambulances have emerged as a popular transportation option for coronavirus patients. The availability of onboard medical equipment and isolation units ensures that COVID-19 patients receive proper care. Air ambulances also come in handy for medical repatriation and organ transport.
Why Choose AirJet.Line?
There's no dearth of air medical transportation services in Las Vegas. Whether you're looking for medical evacuation or international air ambulance services, you'll find plenty of options. But it's essential to evaluate your options before making the final decision.
Here are a few reasons why AirJet.Line stands out from other air ambulance companies in Las Vegas:
World-Class Medical Amenities
We leave no stone unturned to ensure that every patient receives the best possible care. All our air ambulances come with heart monitors, ECMO machines, ventilators, IV pumps, external pacemakers, and other sophisticated medical equipment.
Our goal is to ensure that there's no delay in administering proper medical treatment to every patient. We even provide portable incubators for neonatal patients and specialized isolation pods for COVID-19 patients.
Also, we recruit experienced medical staff members and train them to deal with mid-air emergencies. A medical team accompanies every patient to monitor their vitals and administer life-saving procedures if their condition deteriorates.
Guaranteed Safety
We recruit professional pilots and flight crew to ensure that our patients are in safe hands. Also, our air ambulances go through rigorous safety checks to identify and repair any faults.
Patient-Friendly Services
Our helpful customer support executives walk you through each step of arranging an air ambulance for a loved one. Also, we provide bed-to-bed services to transport patients from the airport to nearby hospitals, including Kindred Hospital Las Vegas and Desert Springs Hospital Medical Center.
Whether you're looking for medevac, organ transport, or sea-level flight services, we've got what you need. So, the next time you or a loved one need an air ambulance in Las Vegas, feel free to reach out to us.