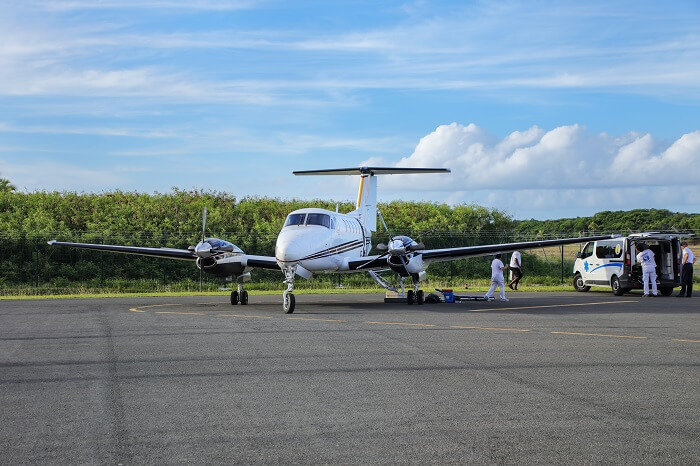 Los Angeles International Airport
Air Ambulance In Los Angeles
Air Ambulance Service in Los Angeles: Finding Reliable and Secure Medical Air Transport in Los Angeles
When you have a critically ill family member at home, all you want is for them to receive immediate medical care. Similarly, if a friend gets injured in an accident, you want them to be transferred to the nearest medical facility as soon as possible.
Ground ambulances don't make the cut in such emergencies. You need a mode of transport that can safely transport your loved ones without any delays.
That's where medical flights step into the picture.
Benefits of Using an Air Ambulance Service
Air medical transportation services play a key role in any healthcare crisis or emergency. An air ambulance is the best option to transport patients from remote, hard-to-reach areas that can't be accessed by road. It's particularly useful for transferring accident victims from such locations to the nearest medical facility.
Also, an air ambulance service is the best mode of transport for critically ill patients who need to be transferred from one healthcare facility to another. It's just as useful as a transportation option for coronavirus patients.
The great thing is that a medical air ambulance is equipped with advanced amenities, such as intensive care units and portable incubators. It ensures that a patient receives immediate medical care if their health deteriorates mid-air.
Apart from speed and safety, air ambulance flights are also the most preferred option for medical repatriation and organ transport.
Why Choose AirJet.Line as Your Air Ambulance Service?
If you've ever scoured the internet for an air ambulance in Los Angeles, you'll come across numerous operators. But it's worth keeping in mind that not all air ambulance companies are created equal.
Here are a few factors that set AirJet.Line apart from other air ambulance operators in Los Angeles:
Patient-Centric Medical Services
At AirJet.Line, our end goal is to make the journey as comfortable as possible for all our patients. That's why all our air ambulances feature a wide array of sophisticated medical equipment, including heart monitors, external pacemakers, IV pumps, ECMO machines, mechanical ventilators, and more.
We even provide portable incubators for the transfer of neonatal patients. Similarly, we provide critical care amenities for pediatric transfers.
We specialize in the transportation of COVID-19 patients too. Our medical flights are equipped with isolation pods that can be plugged into any life-support device available onboard. These units also come with an in-built airflow system that helps maintain a patient's oxygen saturation levels.
Critically ill patients can also avail themselves of our bed-to-bed transfer from the airport to nearby hospitals, including Cedars Sinai Marina Del Rey Hospital, Kindred Hospital Los Angeles, and Centinela Hospital Medical Center.
We also provide organ transport, medevac services, and sea-level flights. We even help patients' families arrange the necessary paperwork for medical repatriation.
Safety
All our air ambulances go through rigorous safety checks and on-site audits to ensure proper functioning.
Also, we provide a specialized medical crew, comprising paramedics and nurses, for every patient. Our skilled crew is trained to tackle mid-air emergencies and administer life-saving procedures if a patient's health deteriorates.