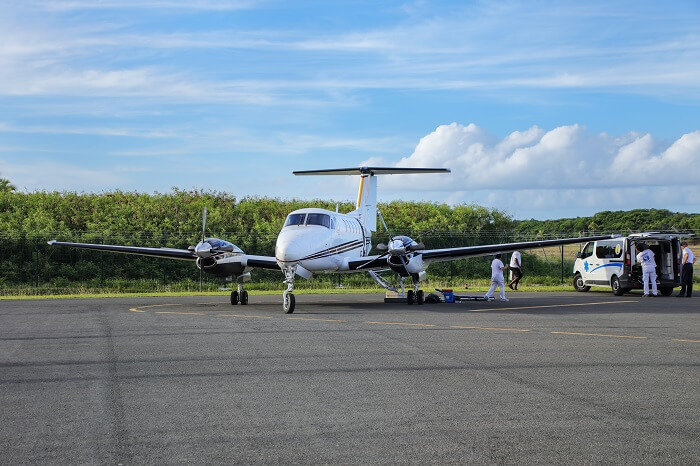 Kona International At Keahole Airport
Air Ambulance in Kailua-Kona
Medical Air Transport in Kailua-Kona: Finding a Reliable and Safe Air Ambulance Service in Kailua Kona, Hawaii
Are you looking to transfer a critically ill friend from Kailua Kona to the nearest hospital? Or perhaps you have a friend who got injured in an accident in Hawaii and needs immediate medical treatment. In either case, an air ambulance could come to your rescue.
When to Use Air Medical Transportation Services?
Air ambulances used to be the go-to transportation choice for transferring injured soldiers from the battlefield. Today, they've evolved into one of the most popular options for the quick and safe medical transfer of children and adults across long distances.
Medical flights are ideal for patients who have to travel more than 500 km but aren't fit to board a commercial airline. Also, they're useful for organ transport and medication repatriation purposes.
The most crucial use of an air ambulance is a transportation option for coronavirus patients. Modern medical flights come with sophisticated equipment, including life-support devices and isolation pods.
It ensures that critically ill COVID-19 patients receive the best care while reducing the risk of exposure for medical crew members accompanying them. The accessibility and speed of an air ambulance can go a long way to improving a patient's likelihood of survival.
Why Choose AirJet.Line?
When you start searching for air ambulance services in Kailua Kona, you'll come across many operators on the internet. But it's essential to analyze the amenities and services of each operator before making the final selection.
Here are a few reasons why AirJet.Line stands apart from other air ambulance services in Kailua Kona, Hawaii:
Best-in-Class Medical Equipment
All our air ambulances feature cutting-edge medical instruments and tools, from ECMO machines and ventilators to infusion pumps and blood analysis devices. We even provide portable incubators for neonatal patients.
Our goal is to ensure that every patient starts receiving quality medical treatment at the earliest when they board an air ambulance.
Similarly, we use specialized isolation pods for the transfer of COVID-19 patients. These self-sufficient units come with an in-built airflow system. They're portable and can be hooked to any life-saving devices available onboard.
The use of such advanced medical equipment goes a long way to enhance a patient's likelihood of survival.
Trained Medical Crew
At Airjet.Line, we believe that an air ambulance service is only as good as the medical amenities they provide. We've recruited a team of experienced paramedics and nurses who are trained to deal with mid-air emergencies.
We ensure that a skilled medical team accompanies every patient. They monitor the patient's medical condition and relay their vitals to the receiving facility. Also, they can administer life-saving medical procedures if a patient's health deteriorates during the journey.
24×7 Availability
We strive to ensure patient satisfaction and comfort. Our customer support executives are available round-the-clock to help you at every step of arranging a medical transfer for a loved one.
Also, our services aren't restricted to onboard medical facilities. We provide bed-to-bed services to transfer critically ill patients from the airport to nearby hospitals in Kailua Kona, including Kona Community Hospital and Kona Family Health Center.
Whether you're looking for a sea-level flight, medevac services, or a transportation option for coronavirus patients, we've got you covered. So, the next time you need an air ambulance in Kailua Kona, feel free to reach out to us.