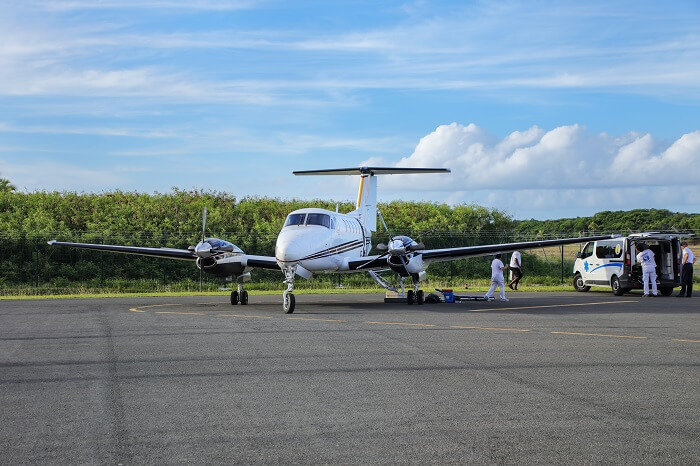 James M Cox Dayton International Airport
Air ambulance in Dayton
Air Ambulance in Dayton: Choosing the Best Air Ambulance Service in Dayton, Ohio
Not too long ago, air ambulances or medical flights were restricted to medical evacuation from an accident site or warfield. However, the modern-day use cases of air ambulance services involve the transfer of COVID-19 patients, as well as pediatric and neonatal transfers.
Today, if you have a good insurance plan or enough money, you can book an air ambulance with cutting-edge medical equipment and a trained medical crew to transport critically ill patients. They are particularly useful for patients who need to travel over 500 km but can't board commercial flights.
What Are the Benefits of Air Ambulance Services?
One of the most significant benefits of booking an air ambulance is its sense of urgency. Since you and the patient will be the only passengers on board, there won't be any delay due to security or boarding.
Additionally, the aircraft used for air ambulances are lightweight and optimized for speed. It ensures that the patient reaches the destination faster and maximizes their likelihood of survival.
Also, new-age medical flights are designed to facilitate medical evacuation, which means they can easily access remote and rural areas. If your loved ones are stuck in a remote area where there's no connectivity, air ambulances are the way to go.
Modern air ambulances also come with top-notch medical equipment, a trained crew, and a skilled pilot to take the patient from point A to point B. They aren't just useful for safe transportation of critically ill or injured patients but also for organ transport and medical repatriation.
Why Should You Select AirJet.Line?
Before you take to the local directory or Google to look for the best air ambulance service in Dayton, you should know that all medical air transport providers don't offer the same quality of service.
Here are a few factors that distinguish AirJet.Line from other air ambulance service providers in Dayton, Ohio:
Trained and Skilled Medical Crew
When you are entrusting the safety and well-being of your loved ones to strangers, you'll want them to be skilled and experienced. We assign a crew of experienced physicians, paramedics, and nurses to every air ambulance. They undergo rigorous training to deal with any mid-air medical crisis and handle the latest medical equipment.
Best-in-Class Medical Amenities
At AirJet.Line, we take pride in the quality of patient care provided. Our fleet of air ambulances is equipped with state-of-art medical equipment. These include everything, from ECMO and ventilators to IV pumps and blood analyzers. The air ambulances are equipped to handle any medical situation, including COVID-19.
We even provide cutting-edge isolation pods for the transfer of COVID-19 patients. These units come with in-built airflow systems and can be connected to life-support devices available on board.
Additional Services
We're committed to ensuring that your loved one safely reaches their destination. To this extent, our air ambulance service includes bed-to-bed transfers from the airport to nearby hospitals like Grandview Medical Center.
Additionally, we have an always-open customer support line to help you through the formalities of medical transfer and any other assistance you may need.
So, if you are looking for a trustworthy air ambulance service in Dayton, reach out to our customer care 24/7.