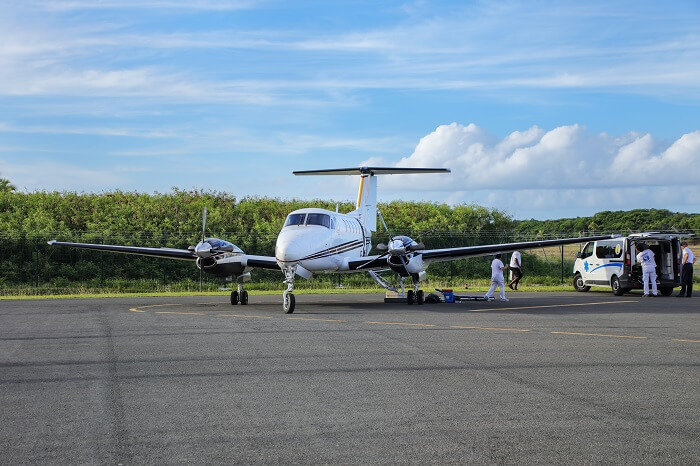 Honolulu International Airport
Air Ambulance in Honolulu 
Medical Air Transport in Honolulu: Choosing a Reliable and Trusted Air Ambulance Service in Honolulu, Hawaii
Finding a loved one in a medical crisis is one of the worst feelings you'll ever experience. Things become even more complicated when they're far away from you. All you want is to ensure that they start receiving medical treatment at the earliest.
That's where an air ambulance service steps into the picture.
Air ambulances are used for the medical transfer of children and adults who have to travel more than 500 km but aren't fit to board commercial flights. They're an ideal transportation option for patients in remote, hard-to-reach locations that ground ambulance services can't access.
Benefits of Air Ambulance Services
Besides accessibility and speed, one of the biggest benefits of medical flights is that they feature state-of-the-art equipment, such as ECMO machines, heart monitors, external pacemakers, and more. It ensures that a patient starts receiving proper medical treatment when they board the air ambulance.
Also, air ambulances have emerged as a popular transportation option for coronavirus patients. New-age medical flights come with sophisticated isolation units that help safely transport COVID-19 patients while minimizing the risk of exposure for family members and medical staff accompanying them.
Air ambulance services also come in handy for medical repatriation and organ transport.
Why Choose AirJet.Line?
If you look for air ambulance services in Honolulu, you'll be spoilt for choice. But it's essential to keep in mind that all air medical transportation services aren't created equal.
Here are a few factors that set AirJet.Line apart from other air ambulance services in Honolulu:
World-Class Medical Amenities
At AirJet.Line, our goal is to ensure that every patient receives the best possible care when they board our aircraft. We use state-of-the-art medical equipment, including ventilators, infusion pumps, blood gas analyzers, and ultrasound scanners, to ensure that patients get the onboard medical treatment they need.
We even provide portable incubators for the transfer of neonatal patients. Also, we use cutting-edge isolation pods to transport COVID-19 patients. These portable pods come with an in-built airflow system and can be hooked to onboard life-saving devices like ventilators.
Also, we ensure that a trained medical team, comprising paramedics, nurses, and physicians, accompanies every patient. They can monitor a patient's medical condition and administer life-saving interventions during mid-air emergencies.
Guaranteed Safety
We've curated a range of best-in-class helicopters and private jets to ensure the comfort and safety of our patients. Also, we conduct regular on-site audits and safety checks to ensure that every air ambulance is in proper working condition.
Additional Services
Besides the frictionless medical transfer of children and adults, we specialize in arranging medevac flights. Also, we provide organ transport and sea-level flight services.
You can even avail of our bed-to-bed services to transfer patients from Honolulu International Airport to nearby hospitals, including The Queen's Medical Center and St. Francis Medical Center.
Whether you're looking for a domestic or international air ambulance service in Honolulu, we've got what you need. Reach out to us to ensure a safe and hassle-free medical transfer for your loved ones.