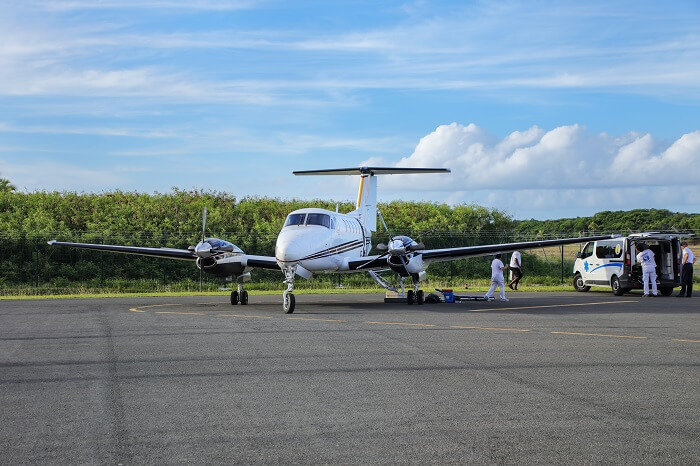 Cairns International Airport
Air ambulance in Cairns
Air Ambulance Service in Cairns: Finding the Best Medical Air Transport in Cairns, Australia
Do you have a critically ill family member who needs emergency care in Cairns? Or has your best friend been in an accident in Cairns and needs to be brought back home? Injuries, such as spine damage, and various critical illnesses require patients to be supine throughout.
Traditional transportation modes like ground ambulances or commercial flights don't fit the bill in such cases. What you need is a dependable air ambulance service in Cairns to immediately transfer your loved ones to the desired medical center.
The Importance of Hiring an Air Ambulance Service
What makes air ambulances perfect for medical emergencies is their lightning-fast speed. Air ambulances are often lightweight planes designed to move quicker than your usual Boeing. It makes them an ideal choice during emergencies like accidents, natural calamities, pandemics, etc.
Moreover, if a patient is situated in an area that's hard to reach by road —like a hill or forest— then ground transport may not be the best option. On the other hand, air ambulances are commandeered by trained pilots who are experienced in landing in such locations and airlifting the patient with minimal delay.
Today, thanks to advanced medical equipment like high-tech isolation pods, air ambulances have also become an excellent transportation option for coronavirus patients. These specialized units help transfer severely ill COVID-19 patients without putting the onboard crew in harm's way.
Any critical patient who needs to travel over 500 km and can't get on a commercial flight will benefit from air ambulance services.
Why Choose AirJet.Line?
Usually, when you look up an air ambulance service provider online, you are bound to be overwhelmed by the sheer variety of options available. However, several factors distinguish AirJet.Line from other air ambulance services in Cairns, Australia.
Advanced Medical Amenities
To ensure that the patient receives the best care, all our air ambulances are fitted with cutting-edge medical equipment. These include portable incubators for neonatal patients, ventilators, pacemakers, infusion pumps, ECMO machines, heart monitors, and more.
Additionally, all air ambulances are fitted with advanced isolation pods that help transfer COVID-19 patients. These pods have a built-in airflow system and can also be hooked up to other life-saving equipment available on board.
Last but not the least, we provide a bed-to-bed transfer service. It means we will arrange for the pickup of the patient from the airport to nearby hospitals, including Cairns Hospital, Herries Private Hospital, and more.
Trained Medical Crew
We understand that all the cutting-edge technology requires a trained crew to operate them. To provide the best care to your loved one, every AirJet.Line air ambulance has a skilled flight crew and a team of experienced medical professionals, including paramedics and nurses.
We ensure that all our crew members undergo rigorous training to handle any mid-air medical crisis. Also, they're trained to perform life-saving procedures, monitor vitals, and keep the receiving facility updated about the patient's condition.
24X7 Availability
Considering medical emergencies can arise at any time, our customer care executives are available round the clock to assist you. From helping you arrange a medical transfer to navigating the details of insurance, our customer care team will help you with everything.
The next time you're looking for an air ambulance in Cairns for a critically ill or injured family member, feel free to reach out to us.