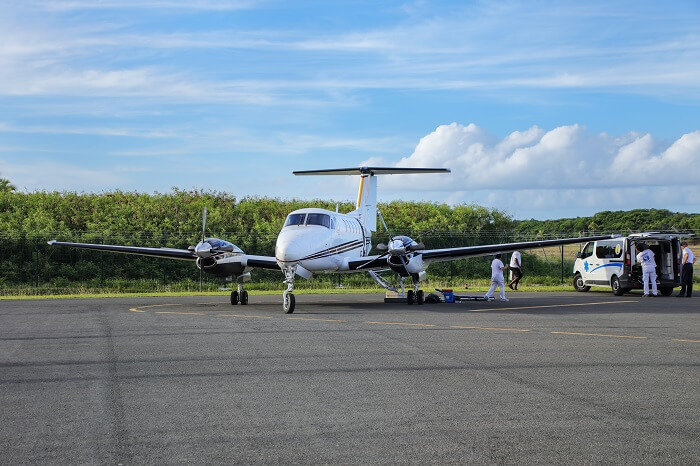 Phoenix Sky Harbor International Airport
Air Ambulance in Phoenix 
Medical Air Transport in Phoenix: Finding the Best Air Ambulance Service in Phoenix, Arizona
Air ambulances have emerged as a preferred transportation option for coronavirus patients during the recent pandemic. Today, the use of air ambulances is no longer restricted to transferring injured soldiers from the battlefield to nearby medical facilities.
Instead, patients from all walks of life are opting for air ambulance services when they need to travel long distances (more than 500 km) and aren't fit to board commercial flights. Air ambulances also come in handy for the medical transfer of accident victims from inaccessible and remote locations.
Benefits of Air Ambulance Services
The most obvious benefits of an air ambulance are its lightning-fast speed and seamless accessibility. Medical flights often help transfer patients from hard-to-reach areas that aren't accessible by ground ambulance services.
Also, they ensure that critically ill or injured patients reach a proper medical facility at the earliest, thus improving their likelihood of survival.
The use of sophisticated medical equipment onboard ensures that patients start receiving the necessary medical treatment immediately. Besides the medical transfer of children and adults, air ambulances also come in handy for medical repatriation and organ transport.
Why Choose AirJet.Line?
There's no dearth of air ambulance services in Phoenix. A simple Google search for "air ambulance Phoenix" will flood you with options. However, these air ambulance companies vary in terms of the quality of service they deliver.
Here are a few reasons why AirJet.Line is superior to other air ambulance companies in Phoenix, Arizona:
State-of-the-Art Medical Facilities
At AirJet.Line, we leave no stone unturned to provide your loved ones with the medical treatment and care they need. All our air ambulances come with sophisticated medical equipment, from ECMO machines and ventilators to heart monitors and external pacemakers.
We even use blood gas analyzers, ultrasound scanners, and other diagnostic tools to monitor a patient's condition during the journey. Also, we provide portable incubators to help you transfer neonatal patients.
Similarly, our specialized isolation pods come in handy for transferring critically ill COVID-19 patients. Each unit comes with an in-built airflow system and can be plugged into life-support devices available onboard.
It helps maintain the patient's vitals while minimizing the risk of exposure for the medical crew and family members accompanying them.
All our medical crew members go through rigorous training to identify and manage mid-air emergencies. Our nurses and paramedics can administer life-saving procedures if a patient's health deteriorates during the journey.
Guaranteed Safety
Our aircraft fleet, comprising top-notch helicopters and private jets, goes through rigorous safety checks to ensure that every air ambulance is in proper working condition. Also, we recruit experienced and skilled pilots to ensure that our patients are always in safe hands.
Additional Services
You can avail of our bed-to-bed services to transfer critically ill patients from the airport to nearby hospitals, including Phoenix Memorial Center and St. Joseph's Hospital and Medical Center.
Our customer support team handholds you through the process of arranging an air ambulance for your loved one. Also, we provide medevac, and sea-level flight services.
So, the next time you're looking for domestic or international air ambulance services in Phoenix, Arizona, feel free to reach out to us.